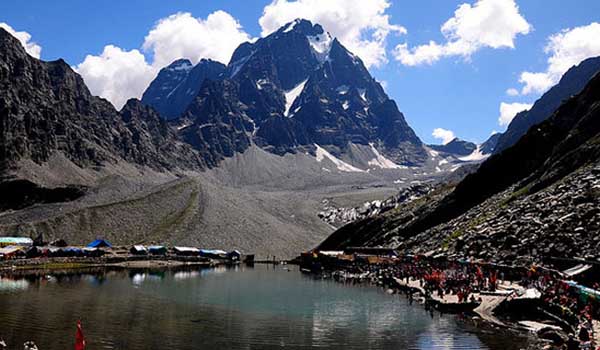 Duration of the Trek: 04 Days / 03 Nights
Destinations: Bharmour – Hadsar – Dancho – Gaurikund -Manimahesh Lake -Bharmour – Bharmour
Highest Point of the Trek: 4115 m.
Period: July to October
Class: Demanding
This is a unique trek which is combination of adventure and religion. This trek consists of two treks one small one day trek to Bharmani devi temple and another three days trek to Manimahesh Lake. First day we will trek to Bharmani devi temple and back to Bharmour. Second day we will start the trek from Bharmour to Manimahesh Lake. Manimahesh Lake is located at the base of Mount Kailash or Chamba Kailash which is at a height of 5775 m. The Chamba Kailash is a epicenter of religion of the area and is known to be as "home of lord Shiva".
Day 1: Bharmour to Bharmani Mata temple and back to Bharmour
Bharmani Mata temple is 4 km away from Bharmour on the top of the ridge with the beautiful view of mountians. Legend says that Bharmour is named after Bharmani Devi. This trek will take you to Bharmani Temple through Village Malkauta. Visitors can take a dip in holy Bharmani Devi pool but the water is really cold. After taking the bath visitors will have lunch and start trekking to Bheem Godda and Ghararu from where visiters can enjoy beautiful view of Bharmour and snow clad mountains. After spending some time at these places visiters will move back to Bharmour.
Day 2 : Bharmour to Dhancho
Our day start with lovely drive of 13 km for Bharmaour to Hadsar, Hadsar is the road head & the startin point of Manimahesh trek. The trek to Mani Mahesh is a gradual ascent on well maintained trail Its a unique walk with hundereds of devotees as the y chants the name of Lord Shiva.at a distance of 6 mkms is Dhancho which open flat plateau with green meadows. Overnight camps.
Day 3: Dhancho to manimahesh
This day starts with stiff climbs on a well paved trek, we divert for the new trail to Bhandar Ghati , which the par t of original approach route to Holy Mani Mahesh. though the route is been improved but is still a tough climb to Bhairo Ghati where the trail leads though Boulders & is almost vertical climb. Before reaching Manimahesh we will pas through Gauri Kund " the lake of Goddess Parvati " . its a lake where ladies take dip in Ice cold water..
Day 4: Manimahesh to Bharmour
This day is simple day to walking down , at a places one has to be carefull , But almost whole deccent is quite easy. On reaching to Dhancho, we will take our Vehicals & drive to Bharmour
Duration of the Trek: 04 Days / 03 Nights
Destinations: Bharmour – Bharmani Mata Temple- Hadsar – Dancho – Gaurikund -Manimahesh Lake -Bharmour – Bharmour
Highest Point of the Trek: 4115 m.
Class: Moderate
Package Cost: Rs. 8000 per person. (minimum 2 person)
Package cost for single person: Rs. 11000
Manimahesh Yatra trek Packages cost includes:
Accommodation in Hotels on double sharing Basis.
All meal on MAP basis (Breakfast and Dinner) during journey and during stay in Hotel
Transportation by Taxi.
Professional tour guide with basic first aid kit.
Personal porter will be available on extra charges.
Contact to Book Your Manimahesh Yatra Trek in June, July, August and September and October
Atul Thakur
Main Bazar Bharmour
Distt. Chamba
Himachal Pradesh  Pin 176315
Email :  info@manimahesh.net.in