Manimahesh Lake well known as Dal Lake is a high altitude lake at elevation of 13,390 Feet or 4,080 meterssituated close to the Manimahesh Kailash Peak in the Pir Panjal Range of the Himalayas, in the Bharmoursubdivision of Chamba district of Himachal Pradesh in India.
The religious sanctity / significance of this lake is very next to that of the Kailash Mansarover Lake in Tibet.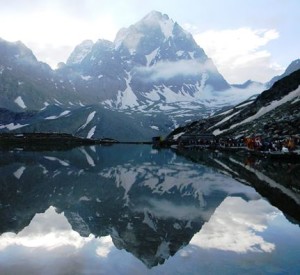 Manimahesh Kailash Peak is believed to be abode of Lord Shiva. People firmly believe that a dip into the Lake would bring in peace and wash all their past sins.
Manimahesh lake is the venue of a highly revered pilgrimage trek undertaken during the month of August / Septembercorresponding to the month of Bhadon according to Hindu Calendar, on the eighth day of the New Moon period (Shukal Paksh of Hindu Lunar Month).
Mahimahesh Lake is also called Shiva Krotri pond. It is known to have its source in Lord Shiva's Feet.
Pilgrimage taken to this trek is known as the Manimahesh Yatra.
The State Government of Himachal Pradesh has declared it as a State-Level Pilgrimage.